Canadian-Made Quality. A Better Product at a Better Price.
See why, for 30 years, Peterborough and the Kawartha's has turned to Walden's Kitchen Centre for complete cabinet, counter and millwork solutions.
Your Kitchen Experts
It began in 1962, when our father, Erwin Walden, started in the cabinet business in Peterborough, creating hand crafted, quality kitchens and cabinetery for home owners, cottagers and businesses alike. In 1990, we opened Walden's Kitchen Centre, which continues to serve the region, from our newest showroom and design centre on Highway 7 East.
Browse our Kitchens
A Passion For Design
At Walden's Kitchen Centre, we're exceptionally proud of our reputation in providing unmatched design capabilities coupled with Canadian-Made product from the industry's leaders including Deslaurier, KitchenCraft, Cambria, Caesarstone, Latitude and more! You'll love our state-of-the-art, computer generated live design capabilities – Come in and say Hello to design experts, Steve Collins and Kacey Walden!
About our Cabinets
Countertops That Wow
Featuring man-made and solid stone counters including marble and granite by Latitiude Countertops – you've seen them on HGTV, and we're proud to partner with them for 30 years! In addition, In-house laminate countertop manufacturing enables affordable counter solutions, perfect for cottages, secondary suites and laundry rooms. You'll be amazed at the look of textured laminate...
Love Your Installation
Skilled cabinet makers and kitchen experts make the difference. And while we're confident we can design the ultimate Kitchen, Bathroom, Walk-in Closet, Media Centre, Laundry Room, and more, at a better price, installation expertise makes good cabinet solutions…great. Ken Walden and his team are the leaders when it comes to fussing over the little stuff so you don't have to. We take our millwork very seriously…and when your cabinets are ready, our team of craftsmen will install them with expert precision.
Serving Cottage Country
Cottage Kitchens? No Problem. We get it. Serving cottagers requires some unique skills and experience. After all, people tend to entertain at the lake, and meal prep can be quite different. From storage to clean up, Steve Collins and Kacey Walden are ready to help you design the ultimate cottage kitchen. But our expertise with cottaging does not stop there – it's only the beginning. Cottage installation is typically winter, and that requires a 'seasoned' team to get the job done. We're ready to get you there (and that might include chains on the tires in addition to our 4X4 trucks!) Island Cottages? Bring it on.
Latest News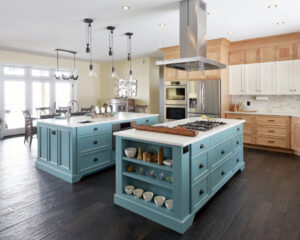 We have launched a new website to serve our clients…. Read More